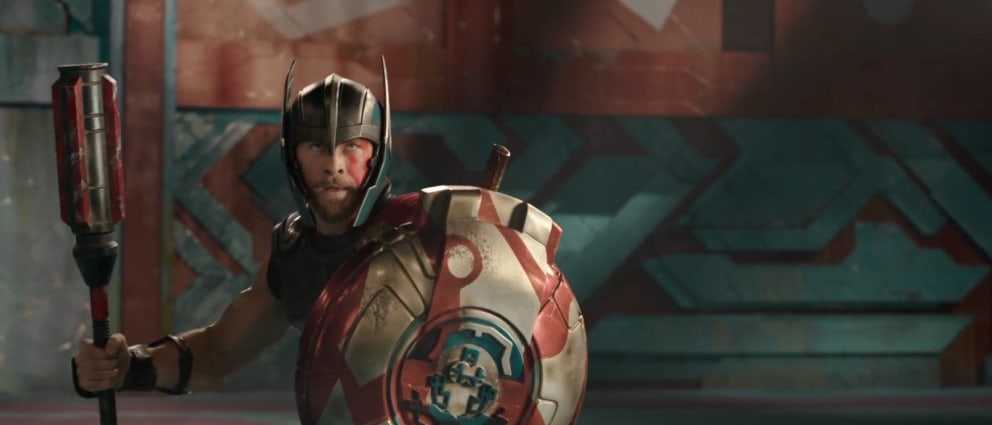 Videos
THOR: RAGNAROK: Kat Sketch: Hela-ween costume tutorial!

THOR RAGNAROK: Regal Cinemas & Screen Rant
Movie Images
Movie Info & Cast
Director: Taika Waititi
Producer: Victoria Alonso, Brian Chapek, Louis D'Esposito
Writer: Eric Pearson, Craig Kyle, Christopher Yost
Release Date: Nov 3, 2017
Runtime: 2hr 10m
Synopsis
Imprisoned, the mighty Thor finds himself in a lethal gladiatorial contest against the Hulk, his former ally. Thor must fight for survival and race against time to prevent the all-powerful Hela from destroying his home and the Asgardian civilization.
Cast
Chris Hemsworth
Tom Hiddleston
Cate Blanchett
Idris Elba
Jeff Goldblum
Tessa Thompson
Karl Urban
Mark Ruffalo
Anthony Hopkins
Benedict Cumberbatch
Did You Know?
Trivia
The film is mainly based on the Thor comics storylines "Ragnar?k" (Thor discovers Asgard is doomed to Ragnar?k and must fight to stop it from happening) and the Surtur saga (Surtur appears, and Thor and Loki team up to stop him). It also incorporates elements of the Marvel storylines "Contest of Champions" (The Grandmaster and Death host a tournament) and "Planet Hulk" (the Hulk becomes a gladiator on an alien world).
See more »
Goofs
When Skurge is firing his rifles "Des" and "Troy," no shells are coming out of the rifles' ejector ports.
See more »
Quotes
[from trailer]
Grandmaster: It's main event time. And now, I give you your Incredible, Astonishingly Savage...
[the Hulk bursts through the stadium door]
Thor: YES!
[everyone in the stadium looks confused]
Thor: Hey, hey! We know each other! He's a friend from work! Where have you been? Everybody thought you were dead! So much has happened since I last saw you. I lost my hammer like, yesterday so that's still pretty fresh. Loki, he's alive! Can you believe it? He's up there. Hey Loki! Look who it is!
[the Hulk glares at Thor]
Thor: Oh, come on.
See more »