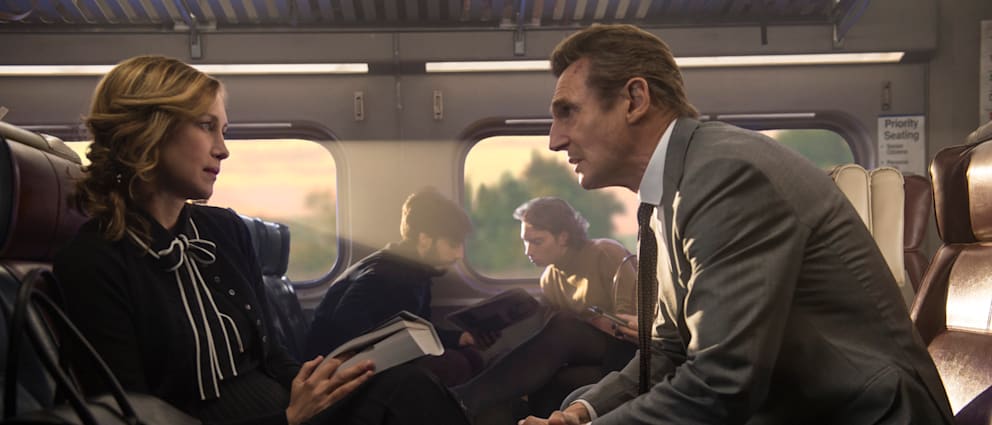 Movie Images
Movie Info & Cast
Director: Jaume Collet-Serra
Producer: Stuart M. Besser, Jaume Collet-Serra, Michael Dreyer
Writer: Byron Willinger, Philip de Blasi, Ryan Engle
Release Date: Jan 12, 2018
Runtime: 1hr 45m
Synopsis
In this action-packed thriller, Liam Neeson plays an insurance salesman, Michael, on his daily commute home, which quickly becomes anything but routine. After being contacted by a mysterious stranger, Michael is forced to uncover the identity of a hidden passenger on his train before the last stop. As he works against the clock to solve the puzzle, he realizes a deadly plan is unfolding and is unwittingly caught up in a criminal conspiracy. One that carries life and death stakes, for himself and his fellow passengers.
Cast
Liam Neeson
Vera Farmiga
Patrick Wilson
Jonathan Banks
Sam Neill
Elizabeth McGovern
Killian Scott
Shazad Latif
Andy Nyman
Clara Lago
Did You Know?
Trivia
Liam Neeson and Sam Neill were both contenders for the role of James Bond in GoldenEye (1995), which eventually went to Irish actor Pierce Brosnan. Neill was also considered for Bond in The Living Daylights (1987). Additionally, both actors starred in a Steven Spielberg film in 1993 (Schindler's List (1993) and Jurassic Park (1993)).
See more »
Goofs
The "Hudson North" commuter train was a veiled representation of the actual Metro North trains than run from Grand Central Station in New York City to Westchester County. These trains go directly from Grand Central Station and make only 1 stop in Manhattan, 125th St. Mike's train made several stops in Manhattan which could only have been made by the Lexington Avenue subway line before reaching 125th St. In addition there is no commuter train stop at Yankee Stadium (there has been a Metro North station since the opening of the new stadium). At Yankee Stadium the Lexington line is elevated, running to the east of the Stadium, not underground as portrayed in the movie,.
See more »
Quotes
Joanna: It doesn't have to end this way. Think about Karen, Danny...
Michael MacCauley: Don't you dare mention their names!
See more »