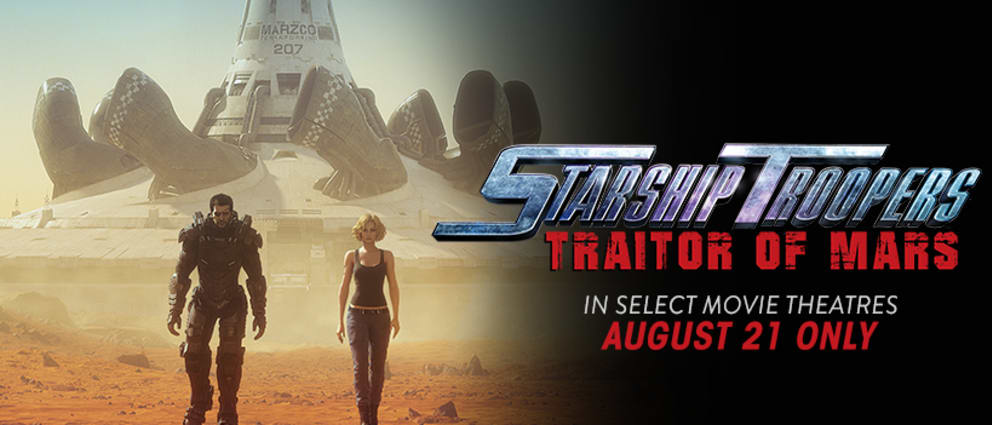 Starship Troopers: Traitor of Mars
Movie Images
Movie Info & Cast
Release Date: Aug 21, 2017
Runtime: 1hr 40m
Synopsis
Fathom Events and Sony Pictures are bringing a premiere event, Starship Troopers: Traitor of Mars, to select movie theatres for a one-night event on August 21. C'mon You Apes, You Wanna Live Forever?! I have only one rule. Everybody fights, no one quits. The bugs have breached Mars and the Federation's Fleet is too far to help. It's up to us to save the planet. On the bounce, Troopers! The only Good Bug is a Dead Bug! Oorah! Casper Van Dien and Dina Meyer return as the voices of Johnny Rico and Dizzy Flores alongside Comedian & Starship Troopers Super Fan DeRay Davis in an all-new military adventure from the writer of Starship Troopers and Robocop, Ed Neumeier. This premiere event includes a special introduction by Casper Van Dien and writer Ed Neumeier, plus behind-the-scenes footage, and filmmakers' interviews.
Did You Know?
Trivia
Casper Van Dien (Johnny Rico) and Dina Meyer (Dizzy Flores) both appeared in the original live action film back in 1997, playing the same characters. Casper was reprising his role for a third time while for Dina this was the second time.
Quotes
Baba: Officer on deck.
One-Oh-One: We give 'em the gas. Kills bugs, but don't hurt us.
Baba: Baba! Oh, uh, jeez, that's me. Flip the nuke, flip the launcher on the nuke. Oh, uh. but not yet. Uh... uh... Dutch!
Dutch: Me and Bessie seal the deal, right down their Bug hole!
Johnny Rico: Remember your training and stick to the plan. Do you get me?
Troopers: We get you, sir!
Johnny Rico: Today, you're going to locate a medium-sized bug colony and wipe it out. Intel estimates infestation is level two. Which means we're up against a thousand active defenders.
Baba: We know what to do. Kill 'em all!
Johnny Rico: Yeah... that's the idea. Run the plan, lieutenant.
Baba: Yes, sir. Uh... Geo!
Geo: First team secures the landing zone, sir.
Baba: Uh, Camacho!
Camacho: We'll locate the target colony's entrance, sir?
Baba: Uh... One-Oh-One.
See more »