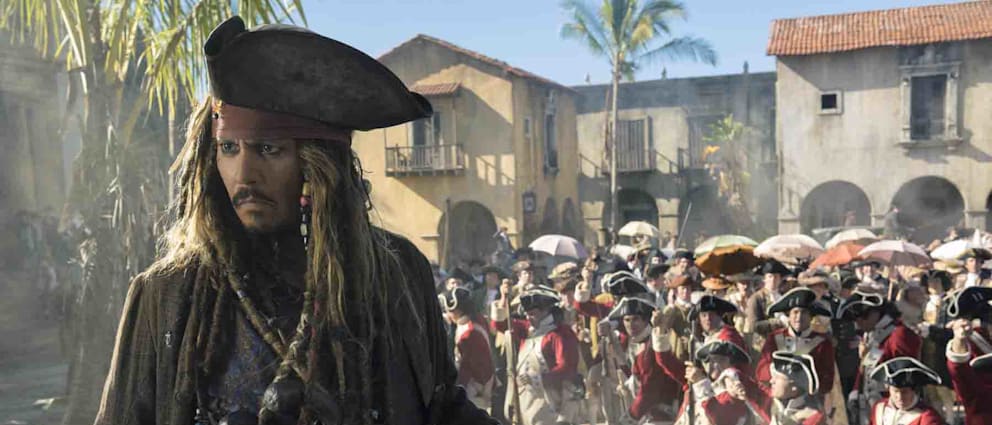 Pirates of the Caribbean: Dead Men Tell No Tales
Videos
PIRATES: DEAD MEN TELL NO TALES - Sit Down with the Stars feat. Matthew Hoffman

PIRATES of the CARIBBEAN: Dead Men Tell No Tales - Catching Up with Andre
Movie Images
Movie Info & Cast
Release Date: May 26, 2017
Runtime: 2hr 9m
Synopsis
Captain Jack Sparrow searches for the trident of Poseidon while being pursued by an undead sea captain and his crew.
Did You Know?
Trivia
Ansel Elgort, Brenton Thwaites, Taron Egerton, George MacKay, and Sam Keeley were all in the running for the role of Henry.
See more »
Goofs
The bottle that the Black Pearl is in is a different bottle than the bottle it was in Pirates of the Caribbean: On Stranger Tides (2011).
See more »
Quotes
[to the only survivor of a ship he attacked]
Captain Salazar: Jack Sparrow...
[holds up a wanted poster of Jack Sparrow]
Captain Salazar: Do you know this pirate?
Henry: Only by name.
Captain Salazar: For too many years the Triangle has cursed us, condemned us to this Hell on Earth. The key to our escape is Jack Sparrow, and the compass which he holds. No, no. No need to fear, me boy. I always leave one man alive, to tell the tale. Find Sparrow for me and relay a message, from Capitan Salazar.
Henry: Salazar.
Captain Salazar: Tell him I'll behold the daylight again. And on that day, death... death comes straight for him. Would you say that to him, please?
Henry: Yes.
Captain Salazar: I wish I could tell him myself, but dead men tell no tales.
See more »