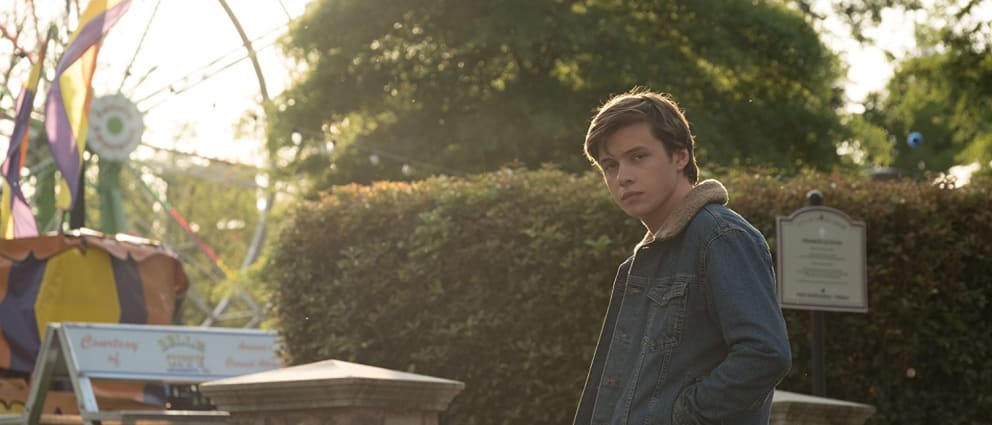 Movie Images
Movie Info & Cast
Director: Greg Berlanti
Producer: Timothy M. Bourne, Marty Bowen, Wyck Godfrey
Writer: Elizabeth Berger, Isaac Aptaker, Becky Albertalli
Release Date: Mar 16, 2018
Runtime: 1hr 49m
Synopsis
Everyone deserves a great love story. But for seventeen-year old Simon Spier it's a little more complicated: he's yet to tell his family or friends he's gay and he doesn't actually know the identity of the anonymous classmate he's fallen for online. Resolving both issues proves hilarious, terrifying and life-changing. Directed by Greg Berlanti (Dawson's Creek, Brothers & Sisters), written by Isaac Aptaker & Elizabeth Berger (This is Us), and based on Becky Albertalli's acclaimed novel, LOVE, SIMON is a funny and heartfelt coming-of-age story about the thrilling ride of finding yourself and falling in love.
Cast
Nick Robinson
Josh Duhamel
Jennifer Garner
Katherine Langford
Talitha Eliana Bateman
Alexandra Shipp
Miles Heizer
Keiynan Lonsdale
Logan Miller
Tony Hale
Did You Know?
Trivia
Although the movie is titled "Love, Simon," it was actually an adaptation of the book "Simon vs. The Homosapiens Agenda." The movie originally had the same name as the book, but it was too long to say, hence the name change.
See more »
Goofs
While attempting to flirt with Lyle, Simon says his first name, Simon, means "one who hears" and his last name, Spier, means "one who sees". But Simon pronounces Spier like "spear", where in this instance it should have been pronounced like "spyer"; i.e. "one who spies". Presumably the line was taken directly from the novel, and the filmmakers seem to have missed the point. It raises the question as to whether novelist Becky Albertalli intended for the name to be pronounced "spyer" all the time.
See more »
Quotes
Simon: Did you know?
Emily: I knew you had a secret. When you were little, you were so carefree. But these last few years, more and more, it almost like I can feel you holding your breath. I wanted to ask you about it, but I didn't wan to pry. Maybe I made a mistake.
Simon: No. No, mom, you didn't make a mistake.
Emily: Being gay is your thing. There are parts of it you have to go through alone. I hate that. As soon as you came out, you said, "Mom, I'm still me." I need you to hear this: You are still you, Simon. You are still the same son who I love to tease and who your father depends on for just about everything. And you're the same brother who always complements his sister on her food, even when it sucks. You get to exhale now, Simon. You get to be more you than you have been in... in a very long time. You deserve everything you want.
See more »