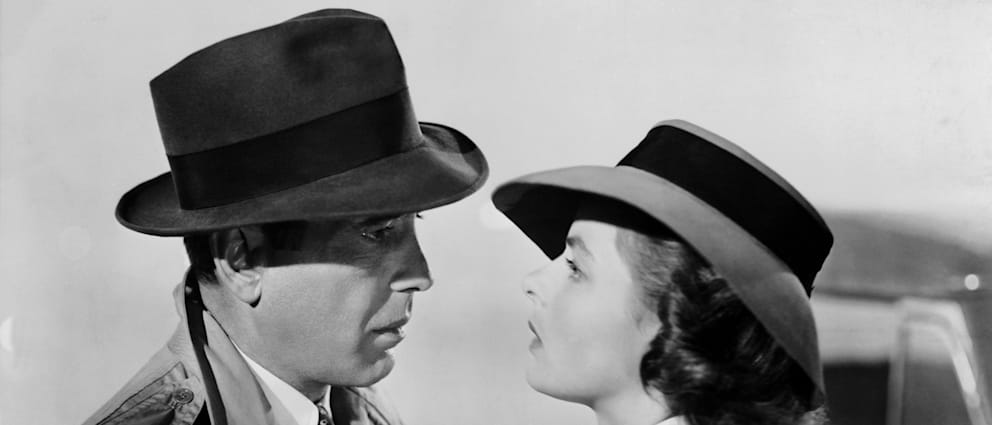 Casablanca 75th Anniversary (1942) presented by TCM
Showtimes
Hmm... we couldn't find any showtimes for this date and location.
Movie Images
Movie Info & Cast
Director: Michael Curtiz
Producer: Hal B. Wallis, Jack L. Warner
Writer: Julius J. Epstein, Philip G. Epstein, Howard Koch
Release Date: Nov 12, 2017
Runtime: 2hr
Synopsis
Fathom Events, Turner Classic Movies and Warner Bros. Entertainment are celebrating the 75th Anniversary of Casablanca and bringing the iconic movie to select cinemas nationwide for a special two-day event which also includes a special introduction by a TCM host. Rick Blaine (Bogart) owns a nightclub in Vichy-controlled Casablanca, frequented by refugees desperate to escape German domination. Rick manages to remain uninvolved in the war raging across Europe and Northern Africa, but all that changes when Ilsa Lund (Bergman) walks through the front door of Rick's club. He must now choose between a life with the woman he loves and becoming the hero that both she and the world need.
Cast
Humphrey Bogart
Ingrid Bergman
Paul Henreid
Claude Rains
Conrad Veidt
Sydney Greenstreet
Peter Lorre
S.Z. Sakall
Madeleine Lebeau
Dooley Wilson
Did You Know?
Trivia
Howard Hawks had said in interviews that he was supposed to direct this film and Michael Curtiz was supposed to direct Sergeant York (1941). The directors had lunch together, and Hawks said he didn't know how to make this "musical comedy", while Curtiz didn't know anything about "those hill people." They switched projects. Hawks struggled with how to direct the scenes that involved singing, namely the "La Marseillaise" scene. It is ironic to note that most of his other films involved at least one singing scene.
See more »
Goofs
When Victor and Ilsa first go to the Blue Parrot in search of exit visas, the parrot sitting outside is clearly a different bird than the one sitting outside later in the film when Rick comes to see Ferrari.
See more »
Quotes
Mr. Leuchtag: Come sit down. Have a brandy with us.
Carl: To America!
Mr. Leuchtag: Liebchen - sweetness heart, what watch?
Mrs. Leuchtag: Ten watch.
Mr. Leuchtag: Such much?
Carl: Hm. You will get along beautiful in America, mm-hmm.
Mrs. Leuchtag: To celebrate our leaving for America tomorrow.
Carl: Oh, thank you very much. I thought you would ask me, so I brought the good brandy. And - a third glass!
Mrs. Leuchtag: At last the day is came!
Mr. Leuchtag: Mareichtag and I are speaking nothing but English now.
Mrs. Leuchtag: So we should feel at home when we get to America.
Carl: Very nice idea, mm-hmm.
[toasting]
Mr. Leuchtag: To America!
Mrs. Leuchtag: To America!
See more »