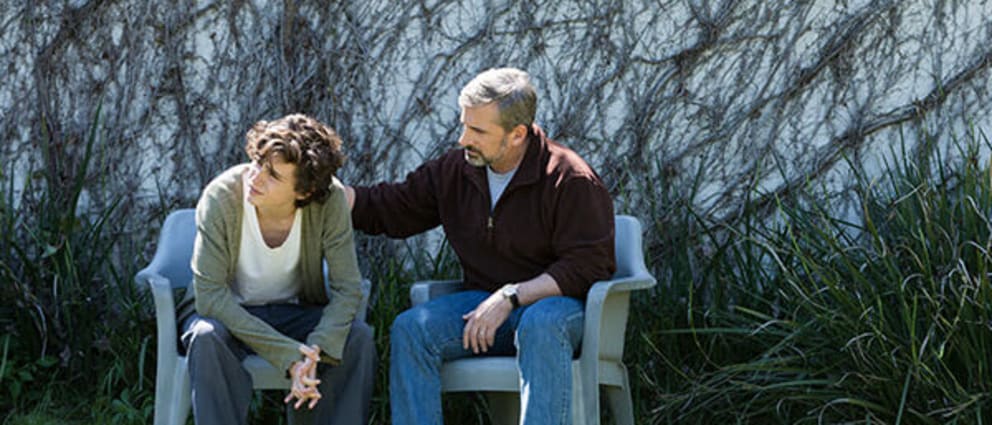 Showtimes
45980 Regal Plaza Sterling, VA
Movie Images
Movie Info & Cast
Director: Felix Van Groeningen
Producer: Dede Gardner, Jeremy Kleiner, Nan Morales
Writer: David Sheff, Nic Sheff, Felix Van Groeningen
Release Date: Oct 12, 2018
Runtime: 1hr 52m
Synopsis
Based on the best-selling pair of memoirs from father and son David and Nic Sheff, Beautiful Boy chronicles the heartbreaking and inspiring experience of survival, relapse, and recovery in a family coping with addiction over many years.
Cast
Steve Carell
Timothée Chalamet
Maura Tierney
Christian Convery
Oakley Bull
Kaitlyn Dever
Amy Ryan
Stefanie Scott
Julian Works
Kue Lawrence
Did You Know?
Trivia
Steve Carell and Amy Ryan previously appeared together as a couple in The Office (US).
See more »
Goofs
In many of the scenes in airports, characters are shown at the gates greeting other characters/bidding them farewell. Following the September 11, 2001, terrorist attacks, however, no one is allowed past security who isn't a ticket holder. Furthermore, the planes shown in many of these scenes are Boeing 727s, which are not used by the mainstream airlines any longer, and haven't been in decades.
See more »
Quotes
David Sheff: So how you doing?
Nic Sheff: What are you doing, huh? You always gotta be controlling everything all the time!
David Sheff: Let me book you a room at a hotel for a couple nights.
Nic Sheff: No, Dad. No, Dad, I want it to go like this.
Nic Sheff: I'm doing great, you know, just, um... um... just doing what needs to be done, and...
David Sheff: What does that mean?
Nic Sheff: I'm sorry, Dad, um...
David Sheff: Why don't we just have lunch and talk? We can do that, right? Please. You think that you have this under control.
Nic Sheff: I understand why I do things. It doesn't make me any different. I'm attracted to craziness, and you're just embarrassed 'cause I was like... you know, I was like this amazing thing, like your special creation or something, and you don't like who I am now!
David Sheff: Yeah? Who are you, Nic?
Nic Sheff: This is me, Dad! Here, this is who I am!
David Sheff: This is not you! This is not you, Nic!
See more »