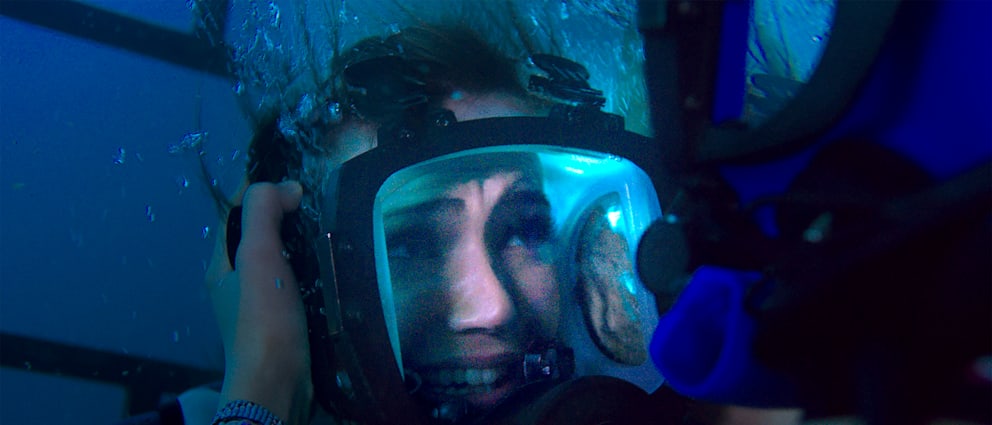 Movie Images
Movie Info & Cast
Release Date: Jun 16, 2017
Runtime: 1hr 29m
Synopsis
Two sisters vacationing in Mexico are trapped in a shark cage at the bottom of the ocean. With less than an hour of oxygen left and great white sharks circling nearby, they must fight to survive.
Did You Know?
Trivia
The shark cage and crane were built on a farm in Kent.
See more »
Goofs
The amount of time a diver can breathe on a tank of compressed air decreases with depth. At 47 meters down, a diver would have limited time as the air they breathe is equalized to the pressure at that depth. Every 10m the volume is divided (10m = 1/2, 20m = 1/3, 30m = 1/4, etc.). So 10m below the surface a diver breathes 2x the volume of air. At 50m each breathe is 6x as dense as the air they breathe at the surface. If the diver's surface air consumption (SAC rate) is 30psi per minute that means they would breathe 150 psi per minute at 50m... which is approximately 20 minutes of air. The most common type/size cylinder in scuba diving is an AL80 / 11L at 3,000PSI / 207 bar). Factors that contribute to gas consumption include physiology, fitness level, and stress/panic (such as that caused by being circled by Great White sharks). Thus one hour is highly exaggerated. US Navy dive tables establish the no decompression limit ("bottom time") for 47 meters (>150 ft) to 5 minutes (not including descent or ascent time). A diver has 20 minutes of bottom time at 100 feet using air (21% oxygen). When using an open circuit breathing apparatus, as in the film, a diver breathes compressed air. Air is 21% oxygen and 79% nitrogen. 100% oxygen can potentially result in oxygen toxicity at depths past 19.8ft / 6m depth. It's also quite possible a diver would experience nitrogen narcosis which is similar to being drunk, and simple tasks can be difficult to achieve. Technical diving generally requires Air / Helium (aka Trimix) when diving below 50 meters / 165 feet in order to reduce nitrogen narcosis.
See more »
Quotes
Kate: It's gonna be the best vacation ever.
See more »